About Voss W Graham
Voss W Graham is the author for this website. He is the Senior Business Advisor and CEO of InnerActive Consulting Group, Inc. and has been actively engaged in B2B sales since 1983.
Voss has represented the Brian Tracy Learning Systems since 1988 and was the top sales distributor for six consecutive years. In fact, he was awarded the "Tracy Award" for Consulting and Training Excellence by the Profit and Productivity Improvement Association in Solana Beach, California.
He is a member of the National Speakers Association. Voss is available for keynotes and breakout sessions for sales meetings, conferences and conventions. Trade Associations have benefited from his content rich stories and knowledge. If you need a speaker for an upcoming session, call Voss at 901-757-4434.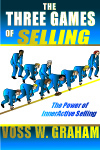 Three Games of Selling – the B2B Sales Book
Voss W Graham has written a B2B Sales Book
– Three Games of Selling – which is
available in softcover or ebook format. Order your copy today by clicking here to go to our website to order your copy of the book or to get instant access to the ebook.
This book uses college football as an analogy to building top sales  teams using the best practices for b2b sales success. Get your copy today.
About InnerActive Consulting Group, Inc.
InnerActive Consulting Group, Inc. has been training and developing sales teams since 1988. Working with Fortune 500 companies as well as small regional companies, we have guided these sales teams and individuals to higher levels of success.
Working with real companies with real sales issues and challenges has allowed us to learn what is really important to growing the top lines of our clients. Regarding the importance of sales training, it is a top priority of successful organizations. However, the execution of sales development comes in various sizes, shapes and delivery. Product knowledge is still getting the top billing in sales training – rather than the sales development leading to true competitive advantage in the marketplace. We have learned that "training events" have a low level of success. The top organizations use process development consisting of shorter- single topic- sessions with a progression over an extended period of time. This practice leads to significant gains in sales success.
"Getting You to the Next Level" is more than a phrase – it's the founding principle of our organization. It is the reason we can still get excited about helping a group of sales people achieve more than they could dream doing. Our experience with sales individuals shows the "winner's edge" starts with the mental mindset they possess. Winners have a competitive edge over others with the same level of skills. This is the foundation of success – the "inner game" of selling.
Our strength is developing sales teams to master major account, key account and large account selling. We have assisted numerous sales organizations in the transition from small sales to large account selling. Knowing the difference between traditional selling methods and inneractive selling methods has differentiated our clients in the marketplace.
To discover our sales philosophy, order a copy of "The Three Games of Selling" by Voss W Graham – our CEO and Senior Business Advisor. Then contact us to get started growing your sales today.